Uurainen is a municipality with friendly people and a strong sense of community
The municipality means that services in nearby towns are only a short distance away. The distance to Jyväskylä is 35 kilometres, while Äänekoski and Saarijärvi are 28 kilometres from Uurainen.
Uurainen offers a beautiful, natural and peaceful environment that appeals to families whit children. This is reflected in the municipality's exceptionally youthful age structure: as many as 30% of the nearly four thousand residents are under twenty years of age.
The municipality has placed a lot of focus on providing high-quality services for children and young people. Small children are looked after in both municipal and private day-care centres. Investments in education include new school buildings and an innovative approach to curriculum development. The municipal health centre provides high-quality health care services to local residents of all ages.
Indoor and outdoor inspiration
The nature in Uurainen offers excellent year-round opportunities for sports and recreation. The municipality has also made substantial investments in man-made sports facilities. All local schools have gymnasiums that also serve other local residents in the evenings. A new full-sized gymnasium was built at the Hirvaskangas school in 2014. Outdoor sports facilities include a disc golf course, basketball courts, tennis courts and a new high-quality artificial turf field. In winter, the well-lit ski trails in the area offer challenges even to experienced sportsmen and women.
In addition to sports services, the local library, folk high school and active residents' associations ensure that there is a lot to do at Uurainen all year round. Popular summer events include Uurainen Week, Höytiä Day and captivating summer theatre performances.
Information
Uurainen was founded in 1868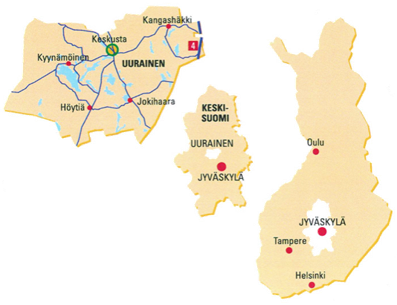 Population
31.12.2018 – 3779
Area
373 km² (incl. 23 km² of water bodies)
Income tax rate
21,5 %
Property tax rates
general 1,05 %
permanent residence 0,43 %
other 1,10 %
Municipality of Uurainen
Virastotie 4
41230 Uurainen
Finland
Tel. +358 14 2672 600
kirjaamo@uurainen.fi